To Request a FREE QUOTE click here!
Services available from Hunter Tile and Grout Restoration include;

Grout Installations
Grout Sealing (Clear Sealing)
Grout Colour Sealing
Tile Replacement
Tile & Grout Sealing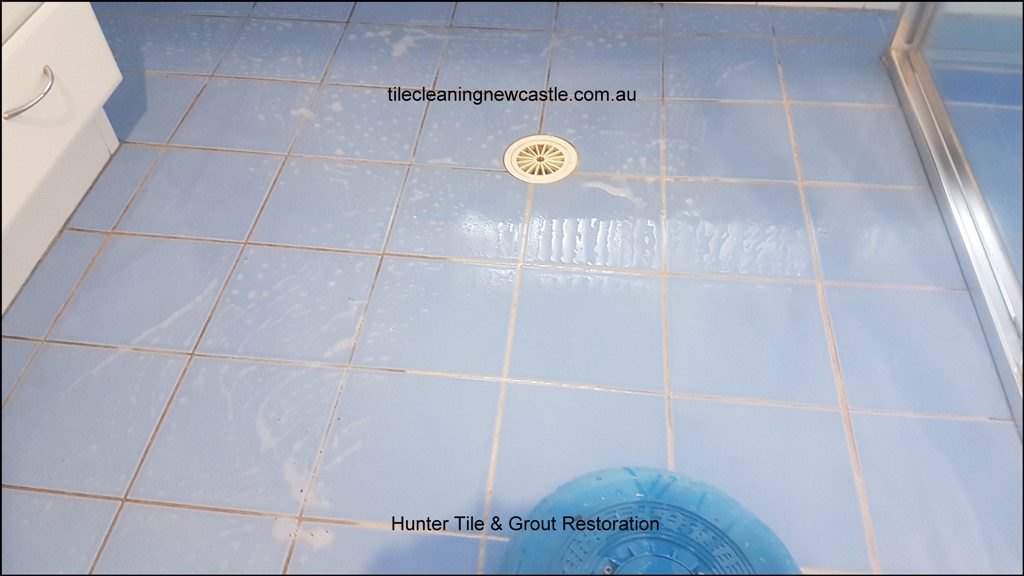 Tile and Grout Cleaning
Professional tile cleaning for a range of circumstances. For new dwellings, the tiles are often very dirty and sometimes covered with a grout haze. The solution to this is to clean with a specialised acid. This method is safe to use indoors and is not harmful or damaging to surrounding fixtures.
The acid tile cleaning method can also be used where there is a build up of mineral deposits. In combination with hi-tech tile cleaning equipment, it can help to remove long term build up of these deposits without damaging the tiles.
For existing homes and businesses, the standard tile cleaning method is a combination of high alkaline detergent and hi-tech cleaning equipment. The specialised tile cleaning solution is second to none. All traces of detergent, grime, oils and dirt are removed to a tank leaving your tiles and grout sparkling clean.
Re-grouting Services

Re-grouting is a service that can rejuvenate a tiled area. A bathroom or a balcony can look very unpleasing to the eye if the grout is in bad condition. Poor grout can also lead to other problems with the home or building. Bacteria, dirt and grime, or water leaking can be issues that need attention.
The first place that grout becomes damaged is usually the shower recess. Shower grout will erode and discolour over time. Often this happens far too quickly in new housing due to poor quality grout being installed. We install only high grade grouts.
If you are looking for a shower regrout, please don't hesitate to call for free quote.
Epoxy Grout
Epoxy grouting has come along way in recent years. We recommend that epoxy grout be used in shower bases. This type of grout is not cement based. When it cures is becomes extremely hard, it is less likely to crack or erode and it is completely water proof.
Grout Colour Sealing
Why renovate a bathroom when you can re-grout and re-colour the grout lines. A bathroom makeover can literally save tens of thousands of dollars as opposed to a renovation.
Grout Colourseal is an alternative to regrouting. The process involves, firstly, a professional clean of the tiles and grout. When dry the grout can be colour sealed. The transformation of tiled areas is remarkable when the grout looks new. There are a range of colours to suit most tiled areas.
Grout Installations
Where new grout installation is required it is recommended that quality grouts be used. The highest quality grout is epoxy grout. Please call if you would like to know more
Cement based grout installations can be used with specialised additives to make a stronger water proof grout. This is especially important when installing grout in shower recesses.
Grout Sealing
Grout can be sealed after it has cured (depending on the type of grout). This is recommended, where the grout is porous, to prevent staining and to render it waterproof. The long term appearance and lifetime of grout can be greatly increased if this method of grout preservation is employed.
If you need a quote for grout sealing please contact us.
Tile Replacement
Usually professional tilers are not interested in replacing the odd broken or chipped tile . If you have some cracked tiles please feel free to give us a call.
Tile & Grout Sealing
Certain types of tiles can be sealed. Stone tiles, slate and terracotta can all be sealed to enhance, protect and waterproof. There are a range of options which depend on the circumstances.
Tiles and grout can be sealed with topical sealers. This type of sealing creates a layer that sets hard over the surface. Finishing looks can be range from high gloss to a matte finish.
Penetrating tile sealing products can be applied to porous tiles such as stone. The penetrating sealer draws in to the tiles and grout and fills up all the pores. When cured the surface is then water proof. Some very high quality sealers can protect against harsher chemicals and can be used in driveways or other areas that are prone to spills.
Silicone Restoration
Silicone restoration and installation for shower recesses, bathrooms, kitchens, laundries and all areas related to tiling. If you have a leak or mouldy silicone we can replace the silicone seals for you.
Free Quotes
Request a free quote. Fill in the contact form on this page or call today.